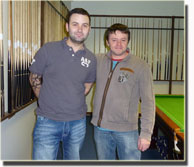 Stephen Maguire
Stephen Maguire

We were honoured to have Stephen contact us for a new cue in January this year 2010.
Currently ranked No.2 in the world.

Stephen liked the design of our Custom Olive wood cue but wanted to try changing from a 1pc cue
to a 3/4 cue. Stephen has always used maple, so Dave (master craftsman cue maker) made 4 identical
Custom Olive wood cues with a maple shaft to Stephen's personal specifications for him to try.
He then drove down to Leeds from Glasgow to try the cues out in the shop. Stephen ended up buying
2 of the cues, a playing cue and a spare. Glad to be of service.

Stephen with Simon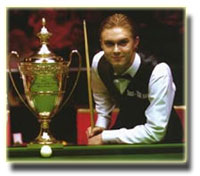 Paul Hunter
Paul Hunter 1978 - 2006
Cruelly denied golden future
2001 & 2002 Benson & Hedges winner

Paul played with one of our cues all the way through his professional career up until he
lost his fight against cancer and died at the age of only 27. All our thoughts and condolences
are with Paul's family and friends. Would have been a future world champion.

Paul used our 147 cue which was then extended with 4 tulip wood splices just like our Majestic cue.
Then a small while later had us fit 4 ebony splices over the Tulip wood to make the butt plain black again.

Will be sadly missed.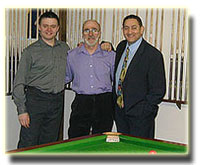 jjohnson

Joe Johnson
1986 World Champion

Joe has been coming to us for many years now.
Joe now has 3 snooker clubs at Barnsley, Bradford and Wakefield as well as his own snooker academy.
He currently plays with two old cues, which he bought from us. As well as supplying Joe with new cues
which he sells to students through his coaching, he also uses our alteration and repair service too.

Now comentating for Euro Sport on most major tournaments.
Pictured with Simon (left), Dave (middle) with Joe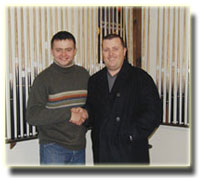 jmichie

Jimmy Michie

Jimmy has been using our cues and services for some time now. Working his way up the rankings and taking the game seriously is paying off for Jimmy. He is certainly the fun loving character that the TV portray him as and we wouldn't have it any other way. Jimmy is available for exhibition evenings, contact us for details.

Recently finding some good form in his game, I'm sure we will see a lot more of Jimmy.
C'mon Jimmy

Simon & Jimmy in the showroom

mcouch


Matthew Couch

Matthew used to be a regular visitor to Craftsman Cues for services to his own cue which was made by us.
Matthew also comes for cue accessories and table equipment for use in his own club in Scunthorpe.
Now running his own Snooker Loopy empire supplying imported snooker euipment as well as still holding his own in the snooker rankings as a pro player.

Dave with Matthew

Twitter

Facebook