When joining Team Unicorn, we work with all players from Generation 180 to World Champion to produce the dart that works for the player. We are motivated by success and strive to give the player whatever equipment improves their game in the deeply competitive environment of 21st Century Professional darts. AUTHENTIC darts only come to market when the player is happy that we have met or exceeded their demands.
The Unicorn AUTHENTIC range brings together for the first time the actual, precise, genuine barrels that Team Unicorn players use. We never fail to be fascinated by player feedback, producing the AUTHENTIC range which demonstrates such a wide variety of grips, shapes and balances.




No nonsense precision engineered ultra quality darts.

Great value, strength in depth across materials,
the CORE range is your one stop shop.


We never stop listening, learning, thinking, winning. Engineering is Unicorn's DNA and Unicorn have been the first to market the majority of innovations in darts technology over 70 years.

The SPECIALIST range is your glimpse directly into the UniLab. Here we bring cutting edge concepts to your skilled hands for your trial and approval.

Each dart in the SPECIALIST range earns it's place with different, unique, performance enhancing features.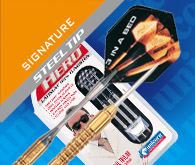 Continuous involvement with product development is a two way street between Unicorn's Research & Development Labs & Team Unicorn.

New for 2009, the SIGNATURE range takes the technology, features and design cues from the AUTHENTIC range to produce a comprehensive range of Team Unicorn approved darts.

World Class endorsement, Unicorn engineering, the SIGNATURE range provides unrivalled player appeal across a broad range of materials and configurations.