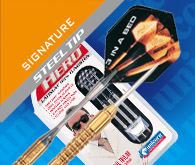 Continuous involvement with product development is a two way street between Unicorn's Research & Development Labs & Team Unicorn.

New for 2009, the SIGNATURE range takes the technology, features and design cues from the AUTHENTIC range to produce a comprehensive range of Team Unicorn approved darts.

World Class endorsement, Unicorn engineering, the SIGNATURE range provides unrivalled player appeal across a broad range of materials and configurations.


We never stop listening, learning, thinking, winning. Engineering is Unicorn's DNA and Unicorn have been the first to market the majority of innovations in darts technology over 70 years.

The SPECIALIST range is your glimpse directly into the UniLab. Here we bring cutting edge concepts to your skilled hands for your trial and approval.

Each dart in the SPECIALIST range earns it's place with different, unique, performance enhancing features.